Frequently Asked Questions
What products and services do you offer?
We offer a variety of products and services to meet the technology needs of small and medium sized businesses.
Products we offer
Acumatica Cloud ERP and CRM
Microsoft Dynamics GP
Office 365
Managed IT services
Services we offer
System selection assistance
System implementation
System customizations
Custom report building
Ongoing tech support
New user training
Security and hosting
Firewall protection
System backups
What makes you different than other technology service providers?
Unlike other partners who only offer one or two business solutions, Intelligent Technologies, Inc. specializes in a wide variety of systems and additionally offers an array of networking services and expertise. With nearly 30 years experience, no matter what your business goals are, we have the tools to get you there.
And, with a 97% customer retention rate, we will work hard to earn your business everyday.
Where do you operate?/ What geographic areas do you serve?
Intelligent Technologies Inc. is headquartered in beautiful Greensboro North Carolina. We proudly serve clients throughout the US and even some in Canada. If you are in North America and searching for a technology partner will provide service that is second to none, you owe it to yourself to talk to us.
What are your business hours?
Intelligent Technologies Inc. is open Monday through Friday 8:30 AM to 5:30 PM except for the following holidays:
New Year's Day
Good Friday
Memorial Day
Fourth of July
Labor Day
Thanksgiving Day
The Friday following Thanksgiving
Christmas Eve (afternoon)
Christmas Day
How can I contact you?
There are a variety of ways you can reach us. Choose whichever option works best for you.
Call us at (336) 315-3935
Send us snail mail. Our address is: 20 Oak Branch Dr., Suite D, Greensboro, North Carolina 27407
How can I request support from your staff?
You may request support by calling (336) 315-3935, emailing the consultant you've worked with in the past, or filling out our support request form.
If you are not yet an Intelligent Technologies, Inc. client but would like to learn more about becoming one, please call (336) 315-3935, or email [email protected].
What is an Enhancement Plan and why do I need one?
Enhancement Plans are a service provided by Microsoft to help ensure that you are making the most of your Dynamics software solution. With your Business Ready Enhancement Plan, you have access to CustomerSource, a Microsoft website that contains all kinds of useful information around the Dynamics family of business management systems.
Once you've owned your Dynamics software solution for a year, it's time to renew your Enhancement Plan. At this point, you have the option of continuing with your current plan or upgrading the to Business Ready Advantage Plan or the Business Ready Advantage Plus Plan.
Let us help you choose the right plan. Call (336) 315-3935 or send us an email.
What are some of the benefits of staying current on my Microsoft Enhancement Plan?
Your Enhancement Plan entitles you to:
Access to the latest releases, new features, and updates, including service packs and hot fixes.
10 year software support lifecycle (five years mainstream and five years extended support)
Tax updates, regulatory releases and future license purchases.
Protective list price– the price of your renewal is based on your original purchase price, ensuring that you always have predictability when it comes to your Enhancement Plan fees.
Transition investment credit – This gives you the flexibility to move from one Dynamics solution to another.
Access to CustomerSource – A portal designed specifically for Dynamics customers, CustomerSource is a one-stop shop for all your Enhancement Plan benefits, as well as other educational and money-saving information.
Online training – This includes downloadable materials and learning plans.
Self-help and support tools – These include an expansive knowledgebase, up-to-date product information and news.
Access to the Dynamics community – This is an online forum where you can connect with peers to exchange ideas, ask questions and discuss solutions.
What are my Enhancement Plan options?
Once you've owned your Microsoft Dynamics solution for a year, you have the option to choose between three different Enhancement Plan levels, The Business Ready Enhancement Plan, The Business Ready Advantage Plan and The Business Ready Advantage Plus Plan. For breakdown of what each one includes, take a look at this comparison chart.
For a detailed look at each of the Enhancement Plans, download the appropriate fact sheet below.
How much does a Dynamics GP Enhancement Plan cost?
Effective October 1, 2022, pricing for the Dynamics Enhancement Plan (EP) and Dynamics Advantage Plan (AP) increased 1% . The Enhancement Plan has gone from 16% to 17% of Protected List Price (PLP), and the Advantage Plan has gone from 18% to 19% of Protected List Price (PLP).
This change also impacts current customer's annual service plan renewals after October 1. All renewals going forward will be calculated at this new rate.
This change does not impact customers on the Advantage Plus plan. For more information on your plan options, see the Microsoft Dynamics Customer Services Guide.
Does my Enhancement Plan include Microsoft support?
No, the Business Ready Enhancement Plan for Microsoft Dynamics business management solutions does not include support incidents from Microsoft. However, you may purchase the Business Ready Advantage Plan, which for CRM and GP includes six (6) support incidents from Microsoft.  Or, the Business Ready Advantage Plus Plan which for CRM and GP includes an unlimited number of support incidents, as well as 24/7 support for critical cases.
Does my Enhancement Plan include any support or consulting hours from Intelligent Technologies, Inc?
No, your annual Enhancement Plan renewal does not include any consulting or support given by the staff at Intelligent Technologies. Payment for the Microsoft renewal is simply coordinated by us.
What are the risks or disadvantages of not renewing my Enhancement Plan?
There are many financial and nonfinancial disadvantages to letting your Enhancement Plan lapse. These include:
Loss of your protected system list price.
Penalty fees – if you let your Enhancement Plan lapse, when you try to renew you will owe current renewal pricing plus an additional 3% penalty for each day that has passed since your Enhancement Plan expired.
Additionally, you will be required to pay for the next year's Enhancement Plan upfront.
Inability to purchase additional users or modules.
Additional disadvantages to not renewing your Enhancement Plan include:
Losing access to product upgrades, service packs and hot fixes.
Losing Microsoft support.
Forfeiting access to CustomerSource's online training, support tools and knowledge base.
How do I know if I'm current on my Enhancement Plan?
Each year, when it is time for you to renew your Enhancement Plan, we will send you a letter alerting you to this fact and asking if you would like for us to handle your renewal.
Should you have questions about whether or not you're current, please do not hesitate to contact us. You may call (336) 315-3935 or send us an e-mail.
If I want to extend the functionality of my Dynamics GP software, are there tools you recommend?
Yes, there's no doubt Dynamics GP is a robust software package that's capable of helping you run your entire business.  But, sometimes, industries or businesses have very specific needs that are better served by specialized Dynamics GP add ons.
About Acumatica Cloud ERP
Will my bill come from Acumatica or Intelligent Technologies, Inc.?
It will come directly from Intelligent Technologies, Inc. 
If I am using Acumatica SaaS (public cloud), how long before the end of my contract should I renew my service?
We recommend renewing at least 30 days prior to the end of your contract to avoid any disruption in service.
If I do not renew before my contract end date, will Acumatica keep my data?
Once your contract ends, your account is put in suspension for 30 days. During this time, your data stays intact, and you can easily restart your service by renewing your contract. After this, Acumatica will permanently erase your data.
If I decide not to renew my contract can I get a copy of my data?
Yes, during the 30-day suspension time frame you can request a backup copy of your data, if your account is in good standing. If you have questions about your account standing, contact us.
In case of a disaster, how do I recover my data?
For added protection, Acumatica backs up all transactional data to a second data center far from your main one So, should an event completely shut down your usual data center, Acumatica can quickly get your data and resume your service.
Are backups done automatically, or do I need to enable them?
Acumatica understands you need good backups. These happen automatically at no charge. If you need one of your backups, you can get it for a onetime fee, or you can buy an optional backup access service.
How long are database backups kept on file?
Here is Acumatica is current data retention schedule:
Daily backups–four days.
The last backup of each week–four weeks.
The final backup taken on the last day of each month–four months.
The last backup of the quarter–one year
How does Acumatica protect my information from unauthorized access?
Acumatica uses sophisticated tools to watch for any tries to compromise the availability, confidentiality, or integrity of your data, or to get around their security controls. If such an attempt occurs, they first lock the intruder out of the system and then launch an investigation to find the intruder. If you would like, you can also request to restrict user access based on IP address.
Is my data stored in the same database as other Acumatica clients?
Unlike similar services, Acumatica gives every subscriber its own database. This boosts security and lets each client use their own copy of the software. Also, data never stays on a user's computer. It only exists on Acumatica servers. Very little of it ever transfers to a user's web browser and when it does, it's only for an instant. Plus, your data is encrypted using trusted SSL technology.
Can I control the level of access given to each of my company's Acumatica users?
Yes. Users can be assigned unique security credentials that can be controlled by their role or set up specifically for them. All logins are unique, and activity can be tracked.
How are user access rights managed in Acumatica?
Acumatica controls access to data primarily by the roles assigned to each user. Roles generally correspond to job assignments or the tasks performed of groups of users. When they log in, the users authenticate themselves, and the associated roles decide which system resources they may access.
Microsoft Dynamics GP How Tos
Can I change my account format?
Yes, to do this, go to, Administration > Setup > Company > Account Format. This window shows your current format settings, as well as the maximums allowed on your account framework.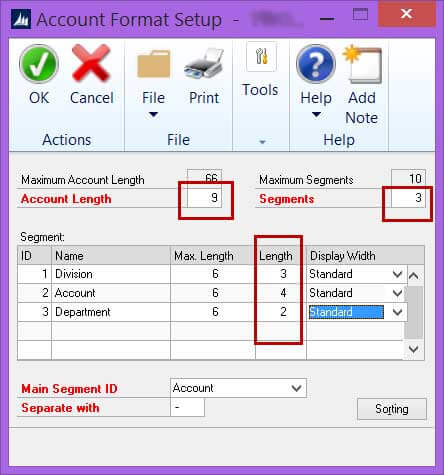 Now, to change your account format, all you need to do is change the numbers shown in the screenshot with red squares drawn around them. Decreasing these numbers requires a special tool. If you need to decrease them, send us an email or call (336) 315-3935.
Using these settings, you can increase your account length and segment length, as long as the new numbers you choose don't exceed the maximum length threshold. Keep in mind, increase your account length, your existing accounts will have blanks in the newly added character fields. If you would like to have these blank spaces automatically populate with zeros, asterisks, etc, we can help. Send us an email or call (336) 315-3935.
Important note: Should you need to change your account framework (maximums), you will need access to the professional services tool library (PTSL) for Dynamics GP. This is a very powerful tool, so if you're not familiar with the PTSL or how to use it, send us an email or call (336) 315-3935. Our friendly Dynamics GP experts will be happy to help you make the changes you need.
Can I see when a user logged in and out?
Yes, this is as simple as turning on the activity tracking tool available in Dynamics GP. Simply navigate to Dynamics GP > Tools > Setup > System > Activity Tracking (See screenshot).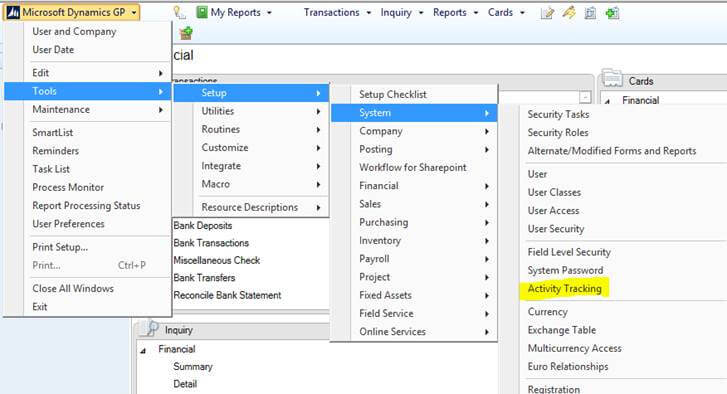 The activity tracking feature allows you to track several categories of user activity, including logging and logging out, access, file, process and posting.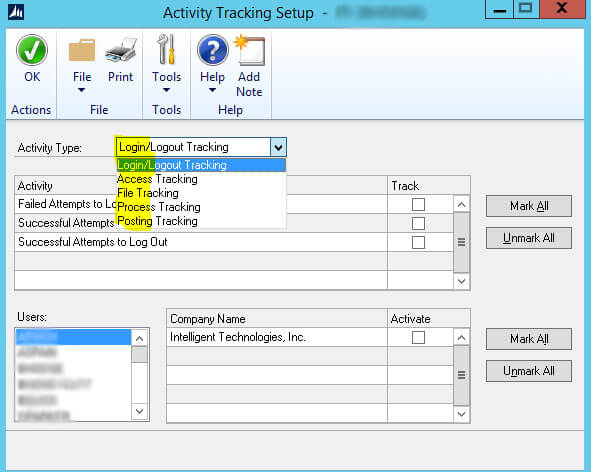 And, for each of these activity categories, there are many specific activities you can choose to track. Also, for additional flexibility, you can track activities at the user level, the company level, or some combination of both.
Can I see who made changes to a vendor?
Yes, tracking who makes changes to vendors is very similar to tracking users login/logout activity. Simply navigate to Dynamics GP > Tools > Setup > System > Activity Tracking (See screenshot).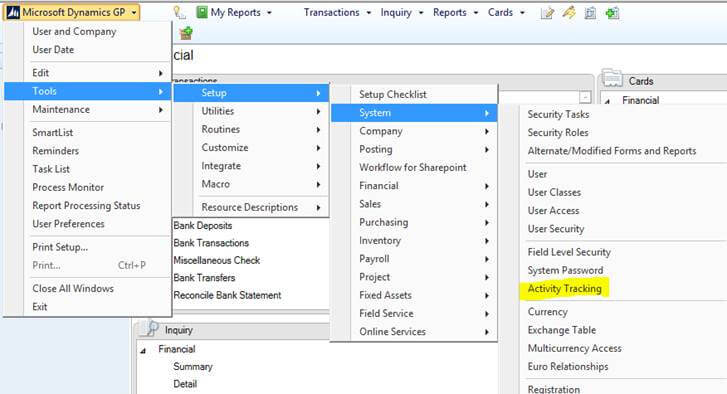 Once the Activity Tracking window opens, you would choose "File Tracking" and then "Additions to Master Files", "Deletions from Master Files" or "Modifications to Master Files," depending on what exactly you would like to track.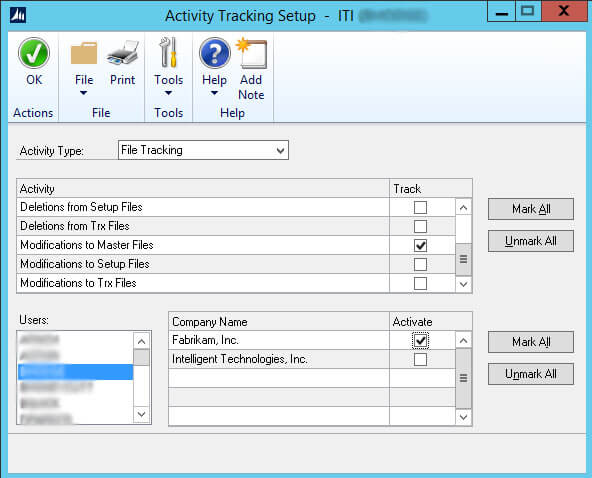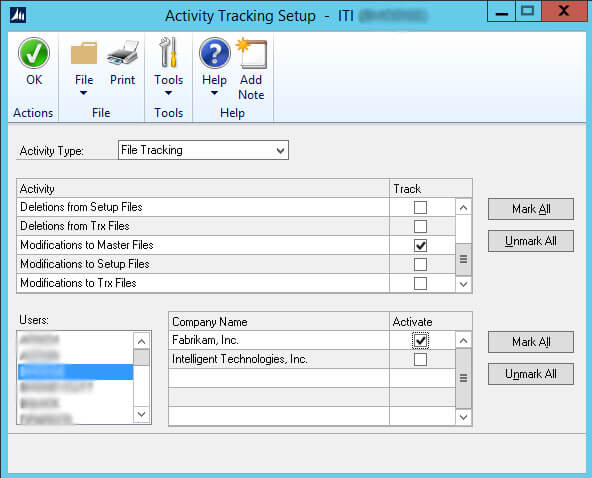 Once you have Activity Tracking set up, you can view all the information it collects by going to Inquiry > System > Activity Tracking. A new window will open like the one shown below.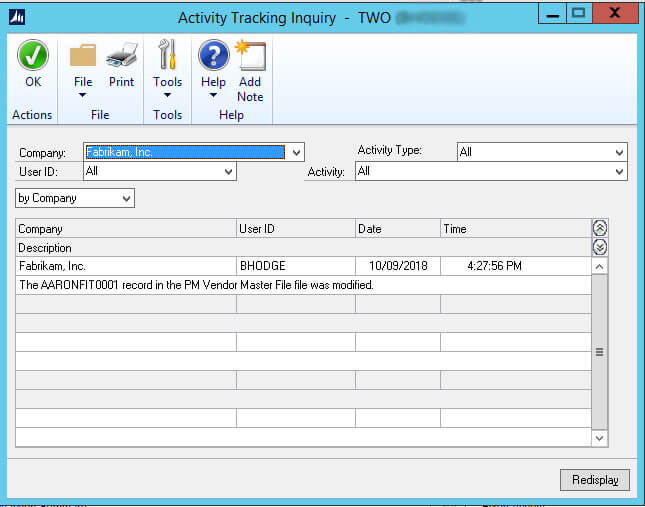 You can choose to look at all your activity tracking data at once, or filter at based on company, activity type or user. Above is an example of what your inquiry might look like if you filtered the data to show who made changes to a specific vendor.
Important note: the report doesn't tell you exactly what change was made. But, it will tell you which vendor was affected by the change.
Can I still post to a fiscal year once I close it?
Yes, you can still post to your most recently closed year, if the following conditions are met.
The Financial series for the date you want to post to is open in the Fiscal Period set up window.
You choose to allow posting to history during your system's financial set up process.
Important note: when you post to a historical year, the system automatically re-closes itself. This means, it automatically generates the appropriate entries to clear any profit and loss account balances and updates the beginning balances for the next year. So, you never need to rerun the closing routine for past years.
Also, if you are using a version of Dynamics GP prior to 2013 R2, you can only post back to your most recently closed year. For example, until you close your books for 2018 year end, you will be able post back to the 2016 fiscal year. But, as soon as you close the books for 2018, you will no longer be able to make changes to 2016, only 2017.
If you are using Dynamics GP 2013 R2 or later, you can reopen a closed year other than the most recent. On the year-end closing window, look for the button labeled "Reverse Historical Year." (See screenshot).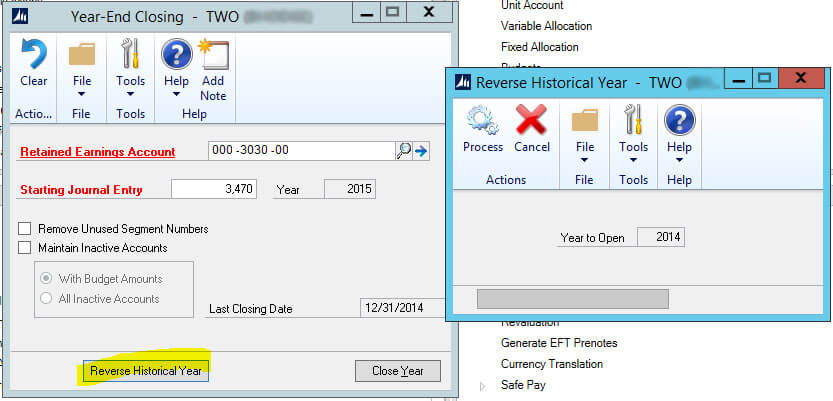 Important note: before using this feature, make sure to backup your Dynamics GP company database. Also, should you want to go back several years, open the most recently closed one first and work backwards from there.
How do I mask my employees' bank account numbers on direct deposit earnings slips?
If you are running a newer version of Dynamics GP, you've probably noticed a feature that allows you to easily mask your employees' Social Security numbers on reports. Understandably, many of our clients wonder if there's a similarly simple way to mask bank account numbers on Direct Deposit earnings slips.
While masking bank account numbers is possible, it's not as simple of a process as masking Social Security numbers. This is because unlike Social Security numbers, bank account numbers vary in length and many companies allow employees to direct deposit to multiple bank accounts, not just one.
If you're familiar with Dynamics GP Report Writer, here are the steps you would take to mask employees, bank account numbers on your Direct Deposit earnings statements.
Trim the bank account field (for the first instance, array 1)
Pull the last 4 digits of that trimmed field
Add some leading "*****" or "XXXXX" to the trimmed field
Replace the old full bank account number with the new masked number (for the first instance, array 1)Do it all
again for each of the other 11 arrays, or at least as many as allowed by the company
Import this modified report on each workstation that might print the Direct Deposit Earnings Statements
Set security for the modified report
If these instructions leave you thinking, "it's all Greek to me", save yourself time and frustration. Ask our friendly consultants to make this change for you. Send us an email or call (336) 315-3935.
How do I stop GP from asking where I want a posting report to print each time?/ How do I stop my posting report from printing altogether?
Navigate to the posting set up window. You can find it by going to Dynamics GP > Tools > Set Up > Posting > Posting. A new window will open. It displays the settings you have chosen for each of your posting reports. (See screenshot).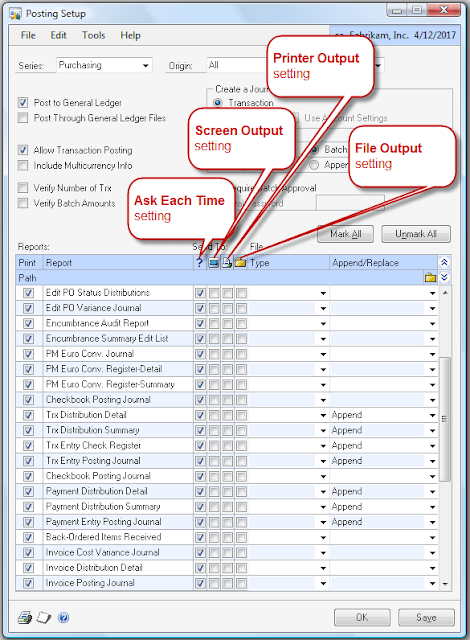 Image source: http://Dynamicsgpblogster.blogspot.com/
Changing the settings for each report is as simple as adjusting the check marks in this list to match your needs.
Important note: do not select "all" in the origin drop-down menu as is depicted in the above screenshot, unless you truly mean to change everything in that module to the settings you select on this screen. Any item specific settings you've set elsewhere, including your post to/post through settings will be lost.
Should I run my payroll internally or outsource it?
This is a personal decision with lots of factors to consider. However, this article from the Dynamics GP User Group gives a great overview of what to consider when you find yourself faced with this choice.
Want to discuss your specific needs and options with one of our Dynamics GP consultants? Send us an email or call (336) 315-3935.
Can you walk me through the year end closing process?
Each November/ early December Microsoft releases Year-End close instructions. If you are a current client of ours, we'll email these directly to you, along with tips from our GP experts. Keep an eye on your inbox!
Not a client yet? Or just looking for general Year End close tips? Get them here.
How do I access online training for Dynamics GP?
Acumatica Cloud ERP How Tos
How do I reset my Acumatica password if I have forgotten it?
How do I install and use the Acumatica app on my mobile device?
How do I access online training for Acumatica?
Log onto Acumatica Open University, a free internet portal with Acumatica educational resources for everyone who is interested in the Acumatica product offerings and technology.
The on demand courses will teach you how to make the most of the software. Available  subects include:
Finance
Customer Management
Reporting
Project Accounting
Inventory Management
System Administation
Web Services
What's the Acumatica add in for Outlook and how do I install it?
Are there keyboard shortcuts available in Acumatica?
Yes, there's a wide variety of keyboard shortcuts users can take advantage of to make navigating the system easier. See the full list.
Can I create shortcuts to my most frequently used forms and reports in Acumatica?
Sure, here's how:
Open the workspace whose Quick Menu you want to configure.
On the workspace title bar, click  to switch to Configuration mode.
For each form or report you want to include in the Quick Menu, select the check box left of the form or report title.
On the workspace toolbar, click Exit to apply changes and exit the configuration mode.
Where can I go to quickly learn how to do some common tasks?
Acumatica offers several Quick Guides for just this purpose. The topics covered are (click any of the links below to go directly to that Quick Guide):
Financials
Operations
Other
Can I personalize Acumatica to fit my work style?
What are dashboards and how do I set them up?
In Acumatica, a dashboard is a collection of widgets shown on a single page and are designed to give you key information at a glance. A widget is a tool that delivers information to your dashboard. You can click any widget drill further into its data.
Learn more about how they work and available configuration options.
What are templates and how do I set them up?
Acumatica includes a powerful copy and paste tool. It gives you the freedom to create a template from any of your existing documents, not just reports. And, a template doesn't have to be just an exact copy of an existing document, once you create an Acumatica template, you can easily change it.
How do I export data to Excel?
How do I attach a file to a record?
Attaching files to a record is such an important feature, it's often one of the first things new users ask about. Let us show you  how it's done with our 2 minute interactive tutorial.
How do I create a Favorites list?
Just like your DVR lets you save a list of channels you watch most often, Acumatica gives you a place to collect the windows you use most often for 1-click access. Learn how to set it up with our interactive tutorial. 
How do I control which columns I can see in an Acumatica window?
Changing around which columns are shown in an Acumatica window is a simple way to customize the software to work the way you do. See how easy it is with our interactive tutorial.
Have a Different Question?
We have nearly 30 years experience working with small and medium sized businesses. So, whether you need help with your software selection, implementation, cloud migration or systems integration, our friendly knowledgeable staff can help. Lets talk!