4 Steps to Accessing the Information You Need in Acumatica
What good is an ERP system that requires you to contact your IT department every time you want to run reports? Or a system that forces you to dump data into a spreadsheet and manipulate it before sharing it with your leadership team?
Acumatica lets you see live reports in role-based dashboards. It's the easiest, most intuitive way to consume ERP information. Learn more in a new infographic from Acumatica.
Check out this infographic to learn:
How role-based dashboards give power to your users.
What to do when you don't know where to find data.
How artificial intelligence (AI) can give you speedy answers to tough questions.
Which customizations can save the most time for you and your staff.
How to use powerful add-ons for even greater value.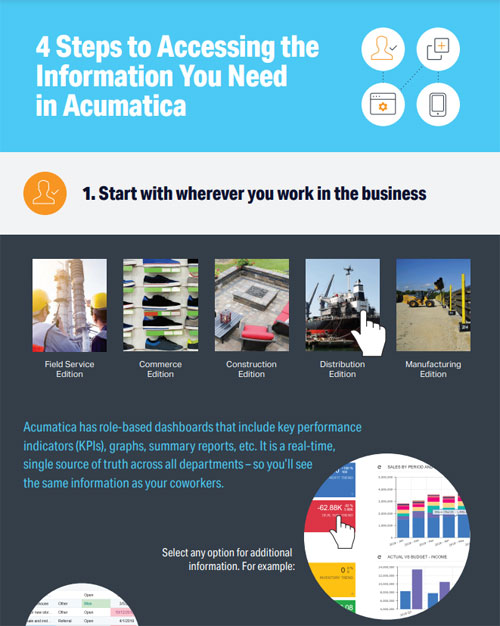 8 Project Accounting Must-Have for your ERP Financial Solution
A new ERP financial solution could offer far-ranging benefits for your organization. But unless it can meet your project accounting needs, it may just deliver more frustration for your employees.
Learn about the eight ERP project accounting must-haves—and where to find them—in a new infographic from Acumatica.
Check out this infographic to learn how to:
Reduce the time you waste setting up quotes, contracts, budgets, and other project elements.
Track project progress in real-time on dashboards.
Support any type of project from quoting through service.
Provide your decision-makers with a single version of the truth.
Add unlimited users to your ERP project accounting system at no extra cost.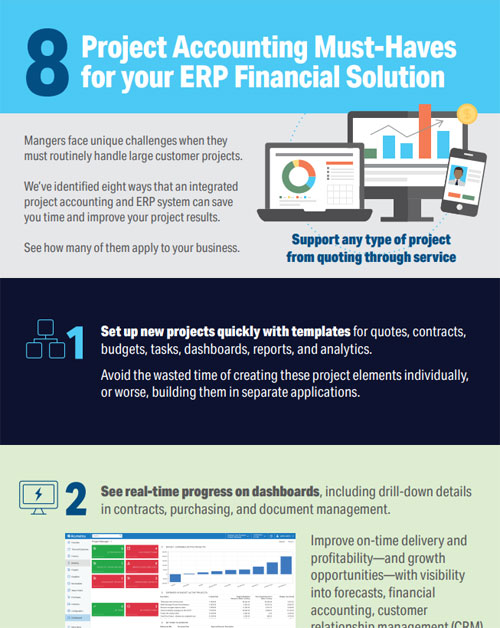 Acumatica vs Dynamics CRM
Both Dynamics CRM and Acumatica CRM are top-of-the-line software. Either is a great option to modernize your sales and customer relationship software. Deciding which of these is best for your business can be tricky, but it doesn't have to be. Check out our side-by-side comparison of Acumatica CRM Vs. Dynamics CRM.
Check out our infographic to compare these popular systems across key criteria, like:
Deployment options
Mobile readiness
Licensing
ERP integration
Reporting and dashboard features
Sales force automation features
Database and business intelligence features
Marketing automation features
Customer empowerment features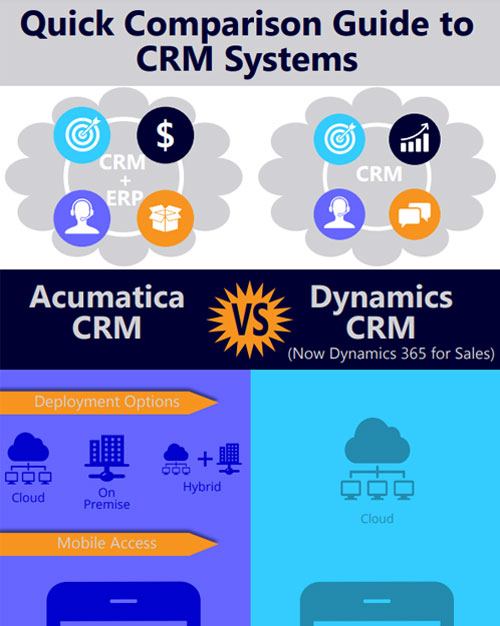 Acumatica vs Dynamics SL
Picking the right ERP is never an easy decision. And, if yours is a project-oriented business, chances are good you are struggling with the Acumatica Vs. Dynamics SL choice. Both these systems are popular choices, and their features seem similar. Let our experts help you see how they stack up against each other.
Look at this handy infographic to quickly computer these popular ERP systems across key attributes, including:
User reviews
Available deployment options
Mobile readiness
Licensing options
Included features
Total cost of ownership (TCO)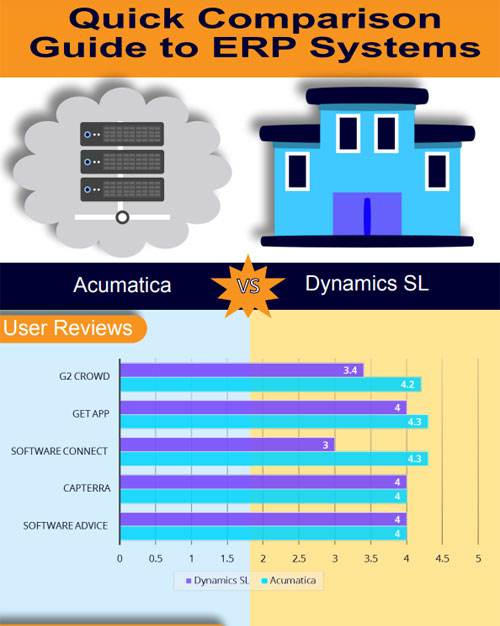 Gain Customer Loyalty (and Increase Profitability) with Acumatica CRM
With many companies offering similar products and services, how can an organization persuade customers to select its product or service? Acumatica Cloud ERP with embedded CRM offers a one-source solution that helps differentiate one organization from another, especially in terms of customer insights, service, and support.
Review this infographic to learn how Acumatica CRM can:
Increase quality leads with connected and automated processes.
Spur innovation by providing real-time access to vital data.
Drive business goals through informed decision-making.
Improve customer satisfaction with fast response times and a self-service portal.
Maximize value by integrating ERP and CRM into a single, powerful solution.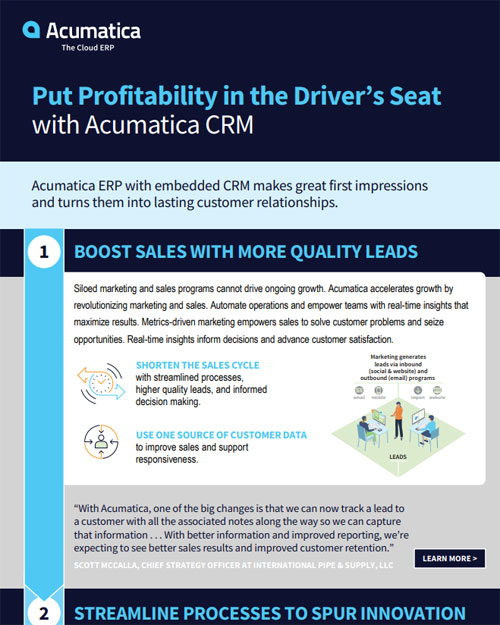 Manufacturing Businesses Ensure Customer and Employee Success with Role-Based ERP Software
Manufacturing businesses that implement cloud-based ERP software experience a plethora of features, functionalities, and benefits. Acumatica's new, complimentary Infographic presents this information in an easily digestible and quick-read format.
In just minutes, learn how Acumatica can help manufacturing businesses:
Connect people, processes & data across the organization.
Streamline operations with a modern ERP platform.
Design custom workflows for manufacturing and inventory transactions.
Monitor manufacturing and engineering operations in real-time.
Equip every team member with the information and tools to succeed.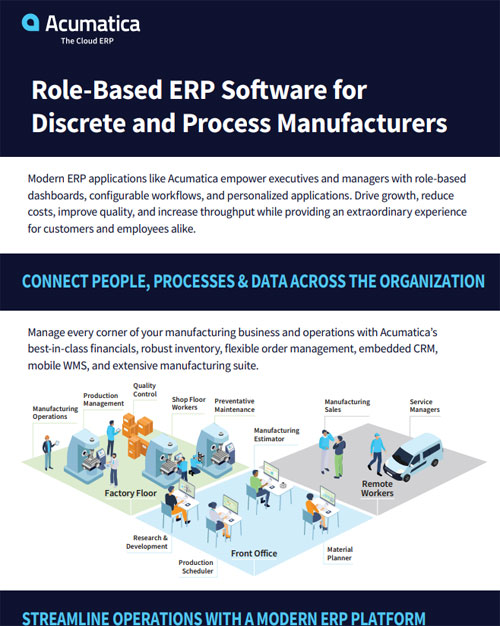 Power Profitability with Intelligent Reporting
One essential element is having access to—and the ability to report on—critical information. Intelligent reporting comes in different forms, and Acumatica has them all.
This Infographic outlines 9 ways Acumatica helps businesses grow with:
Hundreds of standard reports.
Customizable reports (without coding).
Multi-dimensional
Scheduled and on-demand compliance reporting.
Personalized dashboards with real-time status and KPIs.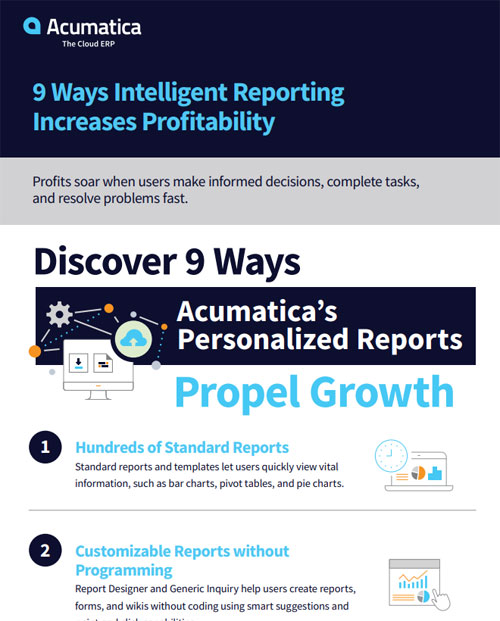 Purchase-to-Pay Automation
Manufacturers and distributors can reduce costs and increase profits by squeezing inefficiencies out of every stage of the procure-to-pay process. If your company is looking for a way to get started with purchase-to-pay automation, check out this new infographic from Acumatica.
Discover what it takes to maximize your efficiency at all stages of the procurement process to get paid faster. Armed with this information, you can take steps to minimize delays and improve cash flow.
Check out this infographic to discover:
How to master key tasks such as supplier management and replenishment.
Where to focus on streamlining procurement.
What your best options are for processing payments.
Three ways to achieve ongoing process improvements.
Why businesses rely on Acumatica to perfect the P2P process.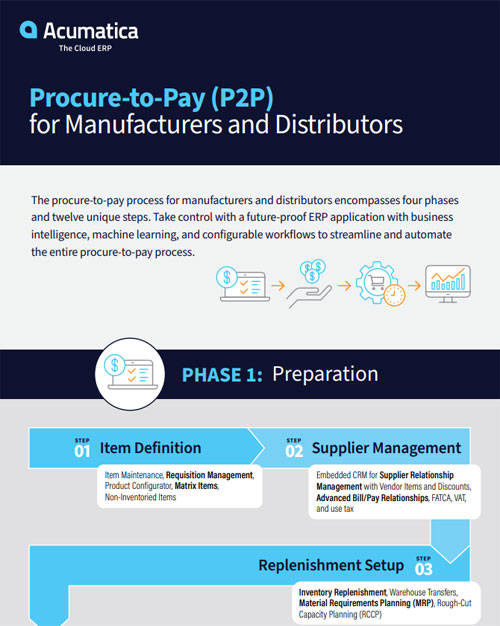 Quote-to-Cash Process Diagram
For many manufacturers, the quote-to-cash process is a headache at best and a mystery at worst. But when everything is working right, quote-to-cash is a series of precise steps that ends with your company getting paid promptly. When you automate those steps with cloud ERP, you can improve your cash flow and increase your ability to innovate in response to changing market demands.
Get started with a free infographic from Acumatica. This handy resource provides a complete quote-to-cash process diagram so that you can eliminate the barriers to getting paid.
Check out this infographic to learn:
What the ideal quote-to-cash process diagram should look like.
The exact sequence of the 14 steps in quote-to-cash.
How Devil's Peak Brewing Company mastered quote-to-cash.
Why businesses rely on Acumatica to perfect the quote-to-cash process.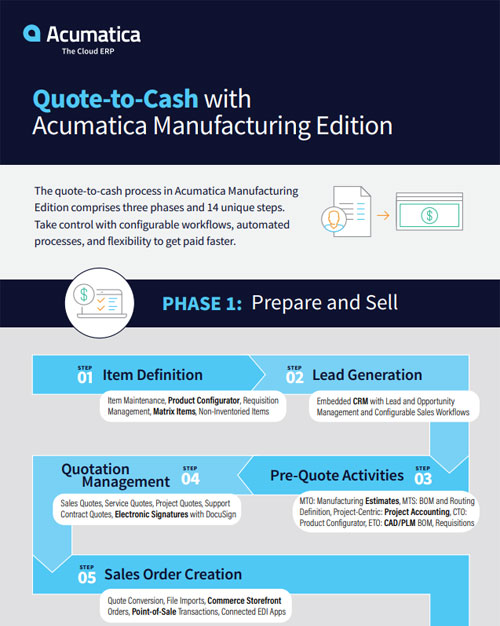 Sophos Phishing Insights 2021
While phishing has been around for a quarter of a century, it remains an effective cyberattack technique primarily because it continues to evolve. Adversaries are quick to identify new phishing opportunities – of which the pandemic provided many – and develop new tactics and techniques. For organizations, phishing is often the first step in a complex, multi-stage attack. Adversaries frequently use phishing to trick users into installing malware or sharing credentials that provide access to their victim's network. A seemingly innocuous email can ultimately lead to ransomware, cryptojacking, or data theft. This report provides the latest insights into phishing based on an independent survey of 5,400 IT professionals at the IT frontline around the globe.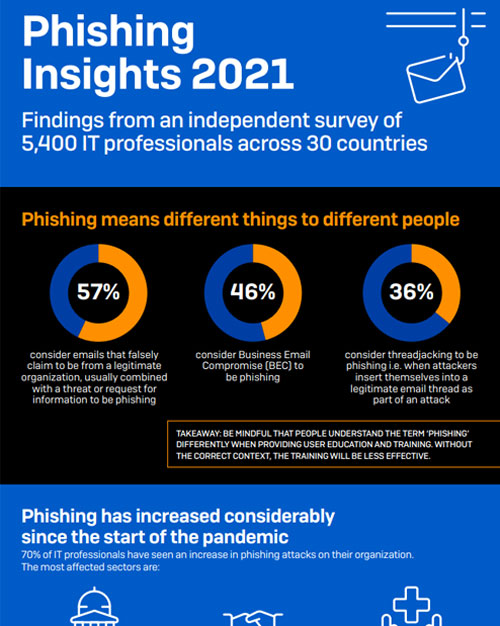 The Total Economic Impact of Acumatica
You've heard the marketing benefits of cloud ERP systems. What actual hard-dollar savings have customers achieved? Find out in a new infographic from Acumatica.
You'll see real-life customer Cloud ERP results measured over a three-year period at four companies that adopted Acumatica. Download the infographic now.
In this Forrester infographic, you'll learn how much Acumatica customers:
Reduced overall costs.
Increased profits.
Enhanced operational efficiency.
Improved gross margin.
Optimized marketing spend.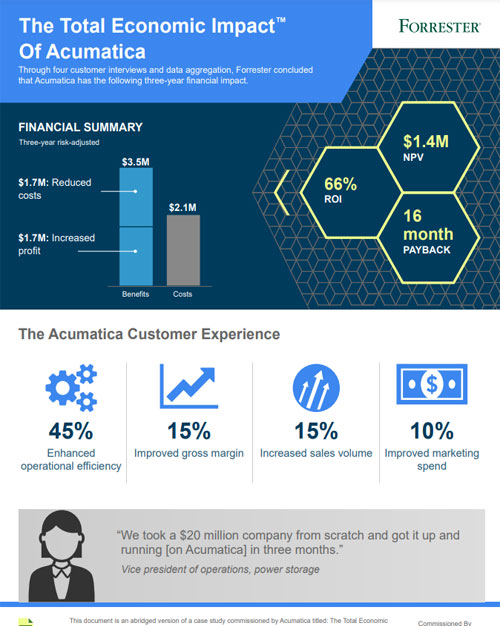 The True Cost of ERP Inaction for Manufacturers
If you're like many manufacturers, you are still running your complex processes on an entry-level accounting system, or an ERP system that no longer fits and is decades old. Have you noticed more data entry errors lately or seen a decline in productivity and wondered why? It might be because your employees must struggle every day to make your current systems work. So, while you might be saving some money in the short term by putting off that much needed ERP upgrade, Inaction also comes at a cost. The scary part is much of this is incurred below the surface. You can't see it unless you go looking for it.
Download our infographic to discover:
Why so many manufacturing businesses delay ERP upgrades.
The opportunity costs that add up for each year you choose to do nothing.
Real bottom line improvements manufacturers have seen because of moving to a modern ERP.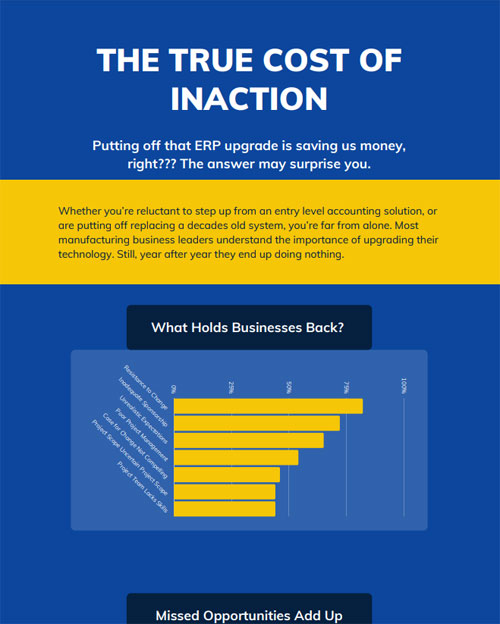 Unify Business Operations Processes with Rapid Integrations
Connecting disparate applications, streamlining operations, minimizing complexity, and fueling long-term growth are popular digital transformation goals. Meeting these goals requires building a connected enterprise through rapid integrations, and rapid integrations reside on Acumatica's modern ERP platform.
This Infographic explores the following 7 steps to becoming a future-proofed business:
Implement a modern ERP platform.
Include robust, embedded capabilities.
Take advantage of Acumatica Industry Editions.
Connect to diverse systems.
Expand interoperability.
Build custom integrations
Transfer data between disparate systems.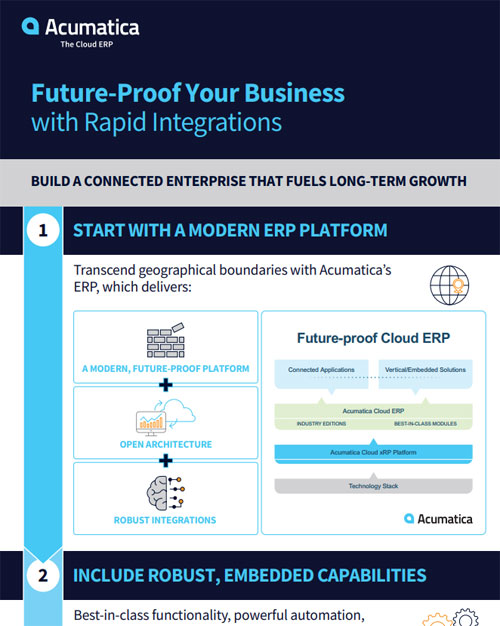 Why Delaying an ERP Upgrade is Bad for Business?
Upgrading ERP software can be a real chore. No wonder why more than half of all ERP users are two versions or more behind the current one. But did you know there are some real, yet hidden costs to keeping your outdated software?
Check out this infographic stuffed with surprising statistics to learn:
How many IT leaders believe their ERP systems help create a competitive advantage to the business.
How putting off an ERP upgrade can chip away your customer satisfaction and erode brand perception over time.
What you pay in unnecessary hardware support costs for each year you delay your upgrade.
How an outdated ERP puts your data security and risk.
Why outdated technology makes it hard to keep up with the competition.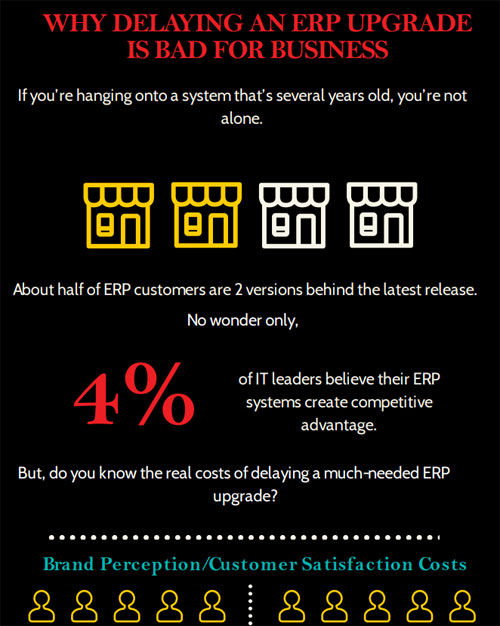 Need Some One-on-One Help?
With over 30 years' experience helping small and medium-sized businesses make sense of technology, Intelligent Technologies can help you explore your options, find the best fit, get your systems up and running, and make sure users have the skills they need to use technology to their advantage.