Every day, there are new hurdles to overcome. Supply chains strain, budgets tighten, and teams are stretched thin. Customers demand more and have endless options. These challenges are the norm in today's competitive world.
What's the Solution to These Complex Challenges?
Efficiency and streamlined operations.
And the key to achieving them? Enterprise Resource Planning (ERP) systems.
Yet, selecting an ERP system is just the start of a long list of uncertainties. Chief among them is finding the right implementation consultant. How can you ensure they have what it takes to guide you through a complex project that will take months and require significant investment? Interviews only scratch the surface.
Y
ou Don't Have Time for Doubts. You Deserve Confidence!
And we believe in transparency. That's why we unveiled our ERP implementation methodology in our eBook, "Methodology Matters: Mastering the ERP Maze." It's more than a peek behind the curtain. It's your roadmap to success from day one.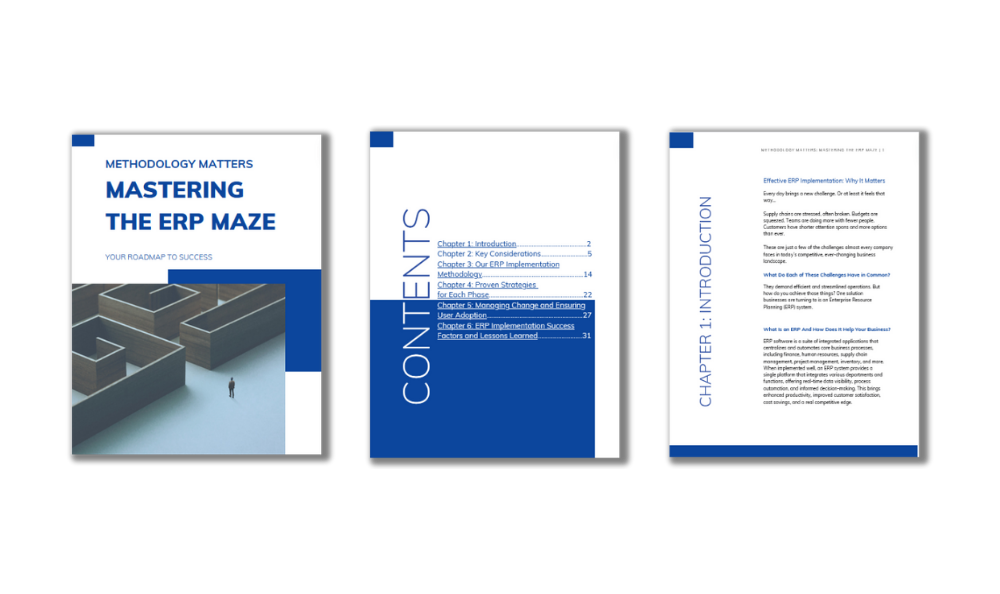 In this eBook, you'll discover:
Strategies to Maximize ROI: Uncover how to perform a thorough cost-benefit analysis and ROI evaluation to align your ERP investment with your strategic goals.
Smart Risk Management Tactics: Tailored risk management strategies for each implementation phase, minimizing setbacks and guaranteeing project success.
The Importance of Data Integrity and How to Achieve It: Understand the pivotal role of data migration, cleansing, and validation in preserving decision-making accuracy.
Keys to Cultivating User Adoption: Learn the secrets to nurturing a culture of user adoption, making the ERP system an integral part of your daily operations.
Common Pitfalls to Avoid: Gain insights from notorious ERP implementation failures and the invaluable lessons they teach, helping you sidestep potential obstacles.
Secrets to ERP Project Success: Explore the crucial success factors that influence your ERP implementation's outcome, from setting clear objectives to continuous training and support.
Follow in the Footsteps of Successful SMBs
Hundreds of businesses have harnessed our proven ERP implementation methodology to revolutionize their operations. Now, it's your turn to embark on a journey towards a brighter, more efficient future.
Intelligent Technologies, Inc. will never sell or rent your information. We will only use the details you provide to us to contact you about our products and services. You may unsubscribe from these communications at any time.
Ready to Conquer Your Business Challenges?
Don't miss out! Here's a preview…