Our experts share proven strategies for ERP project success based on 30 years of experience in the industry.
The right ERP (enterprise resource planning) system well implemented to fit your business's exact needs and specifications has the power to improve your business from top to tail, with enhanced efficiency, newfound automation, and more cohesive collaboration. Why is it then, that according to well-respected analyst firm Gartner, sadly about 70% of ERP projects fail?
There are several reasons ERP projects fail to reach their full potential. One of the biggest is selecting the wrong ERP implementation partner or not using one at all.
Contrary to what you may think, especially if you don't have an extensive internal IT team, ERP implementation is not a DIY project. Squeezing every drop from your ERP investment is about more than getting the software up and running. It requires steadfast project management, expert software development skills, a readiness to handle change management issues and an ability to train and support users successfully.
Without all that, you doom your ERP implementation project to fail from the start. Don't let yours be another statistic! Let us help you escape this disastrous mistake and show you the easy way to find the right ERP partner for you.
Read our eBook "Finding the Right to ERP Implementation Partner for You: A How-To Guide." It walks you through the process step-by-step.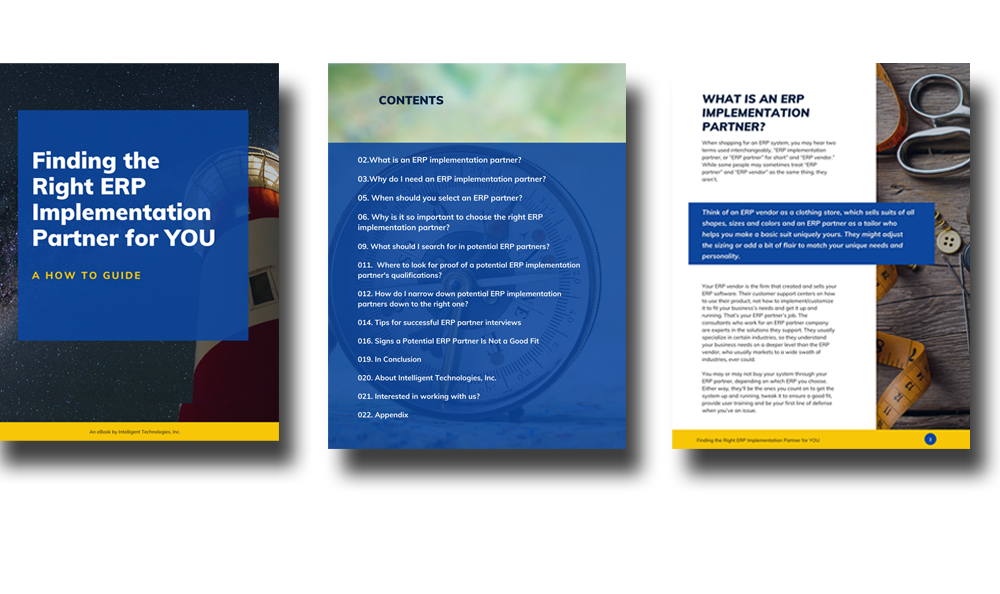 You'll learn:
What is an ERP implementation partner?
Why do you need one?
When should you choose your ERP partner?
5 inarguable reasons you must choose the right ERP implementation partner.
5 must haves to look for in potential ERP implementation partners.
5 hidden (in plain sight) places, you'll find proof of a potential ERP implementation partner's qualifications.
3 unbelievably practical tips for narrowing down potential ERP implementation partners to the one.
5 telltale signs a potential ERP partner is wrong for you.
Take the pain out of researching and interviewing ERP partners. Read, "Finding the Right ERP Implementation Partner for You: A How-To Guide" first!
Plus, get a bonus cheat sheet with the tough questions buyers must ask every ERP partner and matrix to help you easily compare your options side-by-side so you can see which is the best fit.
 Intelligent Technologies, Inc. will never sell or rent your information. We will only use the details you provide to us to contact you about our products and services. You may unsubscribe from these communications at any time.
Grab the free eBook to find your ideal ERP partner fast!
Don't miss out! Here's a preview…