Microsoft has made it clear its ERP solution of choice from now on, and where it will devote the lion's share of its time and resources, is Dynamics 365, not GP. A harsh reality which leaves many loyal Dynamics GP users wondering, "what's next?" While Dynamics 365 is an excellent fit for some, other Dynamics GP users find as a rather new product, it still lacks some features they need. Thus, leaving them with no choice but to search for other Microsoft Dynamics GP cloud alternatives. So, if you're ready to replace GP and want to look outside the Dynamics box, where should you begin? For many of our clients seeking a modern tool to help them usher in life after GP, the obvious answer has been the fastest growing cloud ERP, Acumatica.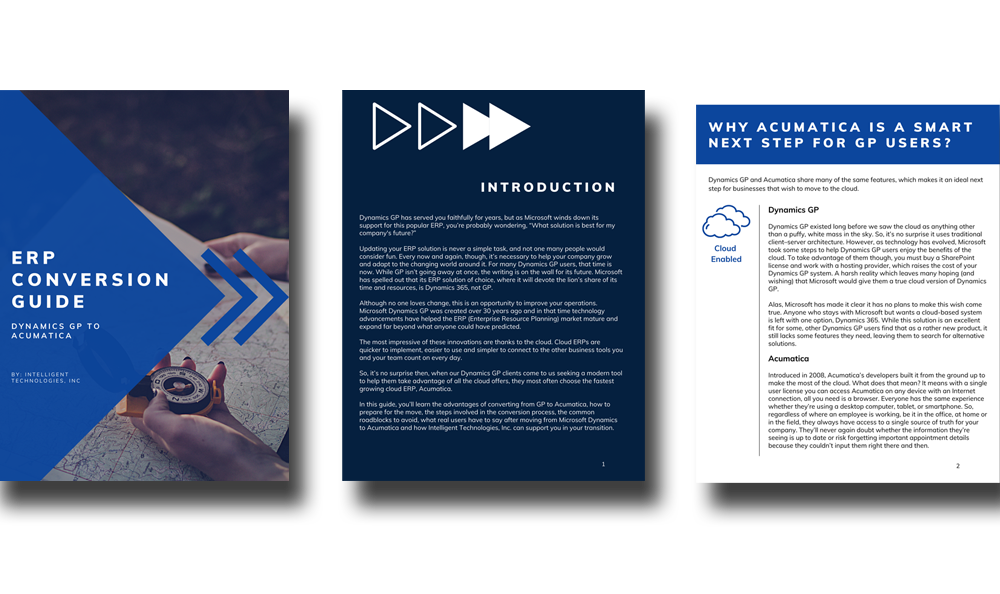 Learn more about Acumatica as a Microsoft Dynamics GP cloud alternative
Read our eBook, "ERP Conversion Guide: Dynamics GP to Acumatica." In it, you'll learn:
What makes Acumatica a smart Microsoft Dynamics GP cloud alternative?
How to avoid the roadblocks threatening the success of your GP to Acumatica conversion.
What's involved in the conversion process, step-by-step.
Why smart GP users trust their Acumatica conversion to Intelligent Technologies, Inc.
What former GP users say after choosing Acumatica as their Microsoft Dynamics GP cloud replacement.
Intelligent Technologies, Inc. will never sell or rent your information. We will only use the details you provide to us to contact you about our products and services. You may unsubscribe from these communications at any time.
Discover whether Acumatica Cloud ERP is your ideal Dynamics GP replacement.
Don't miss out! Here's a preview…
Former Dynamics Users Share Their Thoughts on Choosing Acumatica as Their Microsoft Dynamics GP Cloud Replacement
"[Acumatica is] extremely reliable—a platform that is up and running 24/7 around the world. It's accessible to everyone, any time they need it; there's nothing from an Information System perspective that is stopping us."
"In my old system, it would take me about a week to do a reconciliation. With Acumatica, I did September's reconciliation in two hours. It's saving me so much time."
"We're now able to focus much more on the growth of the business and performance of the company than constantly managing our infrastructure."