As you may be aware, the federal government did not set the Payroll withholding rates for the year until mid-January. As a result, the Dynamics GP tax tables with the new rates were not released until the 19th. If you are using Dynamics GP Payroll and you last updated your tax tables before 1/19/2018, you do not have the have the latest rates and will need to update your Dynamics GP Payroll tables.
How to Update Your Dynamics GP Payroll Tax Tables
Log in to GP as sa
Choose Microsoft Dynamics GP – Maintenance – US Payroll Updates – Check for Tax Updates
You will be asked for your authorized number. Enter the phone number you used when registering Dynamics GP. Not sure what that is, or is the number you entered not working? Ask your GP partner. Or, if you are an existing Dynamics GP Payroll client of Intelligent Technologies, Inc., try ours. (3363153935)
Verify that you have the latest Dynamics GP Payroll tax tables installed. Navigate to Microsoft Dynamics GP – Tools – Setup – System – Payroll Tax. If you have the latest updates installed the "Last Tax Update" date in the upper right hand corner of the screen should read "1/19/18. See screenshot below.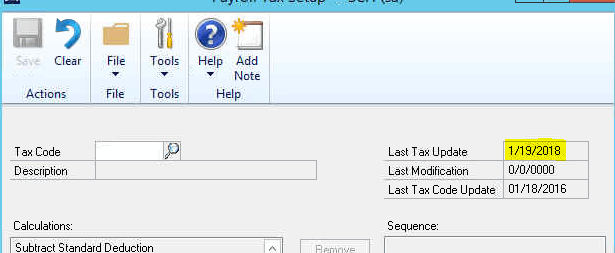 Questions? Leave a comment or contact your Dynamics GP partner. Don't have a GP partner? We can help!